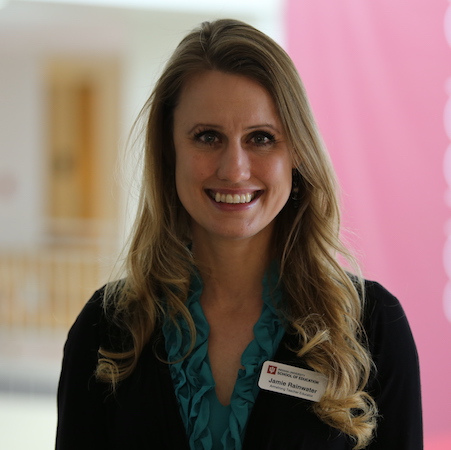 District:

Nineveh-Hensley-Jackson United School District

School:

Indian Creek Intermediate School

Content Area(s):

Third Grade
"To be a true learner, you never stop learning and [to be] a true leader is just to be humble and realize how much you don't know."
Profile
Jamie Rainwater's classroom promotes a culture of care and empowerment. Jamie teaches in a third grade inclusion classroom at Indian Creek Intermediate, with approximately one-third of her students having Individualized Education Plans. Jamie places a premium on positive peer interactions, as she believes students can learn as much from one another as they can from her. Additionally, Jamie provides a universal learning design all her students, equipping them with tools such as Snap and Read, calculators, and charts. Jamie is also dedicated to fostering civic-mindedness in her students, which led her to launch a school-community garden in partnership with a local food bank and churches. Jamie extends students' knowledge and reach beyond their local communities, incorporating her worldwide travel into her classroom through engaging means. Jamie's passion for her students is evident, and she is able to offer the balance of challenge and support to move students beyond what they thought was possible.