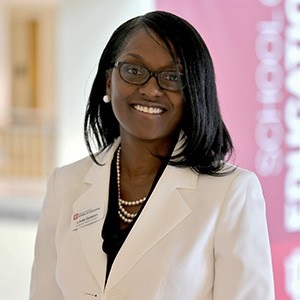 District:

Gary Community School Corporation

School:

New Tech Innovative Institute

Content Area(s):

Secondary English
"The first thing you need to do, that I've found is successful, is building relationships. Phone calls should not always be punitive."  
Profile
Linda Golston is a model teacher, innovator, and leader in her school district. An English instructor for grades 7-12 at the Gary Community School Corporation's New Tech Innovative Institute, Linda has a gift to inspire youth to learn. Linda strives to prepare students for college, career, and civic life. From managing classroom blogs to writing code, the students in her English classroom engage in learning that will help them develop the relevant twenty-first-century skills needed to be successful. Linda facilitates collaborative groups of students who work together to tackle real-world problems, enabling them to become more self-directed and responsible for their own learning. 
Since early in her career, Linda has understood the diversity among her students and the importance of meeting each person's individual needs as they learn. She has tremendous initiative, a desire to continue to learn, and a reflective practitioner outlook. Linda remains steadfast in her belief that all students can succeed academically.