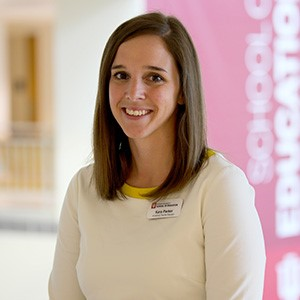 District:

Monroe County Community School Corporation

School:

Bloomington High School South

Content Area(s):

Science and Math
"It's a balance, it's hard. You do still have to make sure that you leave time for yourself, which is something that I have to work on constantly."  
Profile
For the last thirteen years, Kara Parker has been teaching a combination of math and science at Bloomington High School South. Kara teaches a wide range of courses and works with students across the academic spectrum, from beginning algebra to AP Calculus and Physics. Her dedication to all students while teaching such a variety of classes makes her highly regarded among her peers. Kara works diligently to plan with her colleagues in both the math and science departments, and she is always willing to try something new for students. 
Given her desire to develop curricula and eventually write textbooks, Ms. Parker was the driving force in developing curriculum for the Algebra 1 wraparound classes for students who had previously failed the course. Her use of technology helps to engage students by providing them videos of her class lessons to use as references. Kara also serves as the co-advisor for the National Honor Society through which she has facilitated a well-regarded and successful peer-tutoring program within the school. Kara has earned the respect of her students, her peers, as well as the administration in her school.